Research data management at University of Basel
Research data management is part of good research and involves many aspects such as
Clarifying legal aspects
Careful selection of datasets
Decision making about formats
Publishing and archiving data in a reusable forms.
Services for our researchers to all the above mentioned steps are provided by different people and organizational units across the university. A close collaboration and a strong network among the providers is essential to ensure the most efficient and best support for researchers.
In order to achieve these goals the current project research data management was launched in December 2017. With our work we aim to achieve a basis for good scientific practice, security, transparency and traceability of research results and thus the re-use of research data for further studies and thus optimizing its social benefits. Part of our work is dedicated but not limited to establish
University Philosophy and Policy on Research Data Management
Legal framework for secure research data management
Integrative services for the entire research data cycle
Templates for data management plans
Trainings & Events
Solutions for active data management and long-term archiving
Silke Bellanger
University Library Basel
Sonia Ackermann
Research Office University of Basel
Thierry Sengstag
sciCORE, Center for scientific computing
Research data management network Basel
Contributors to the research data management (RDM) network are (alphabetical order):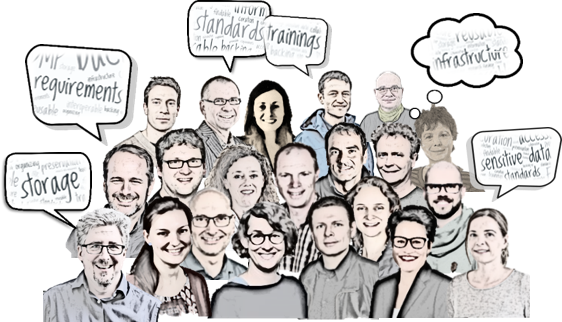 The RDM-Network is "coalition of the willing". If you are interested in taking an active part in promoting good practices in data stewardship in research, do not hesitate to contact us.